Red Dwarf X – 2012

Red Dwarf X – 2012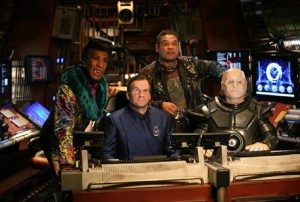 As seen in desktop magazine here
One of my first posts on desktopmag.com.au was about the short Back To Earth mini-series from Red Dwarf. Now a few years later, the popularity of the mini-series has been such that a full season of Red Dwarf has been ordered. It is currently in production with a planned September broadcast on Dave in the UK. Which means a season pass on iTunes is probably your best bet to catch the series as soon it is available.
If you have never experienced Red Dwarf before, it is a SciFi sitcom set deep in space three million years into the future, revolving around an android, a hologram, a humanoid evolved from the common house cat and the last remaining human. A total slob called Dave Lister. Every season has seen an increase in set and prop quality, but it is the acting and well written scripts that make this such a winner.
Check it out, it is well worth watching a few episodes to see if you like the humour (or ask a friend if you can borrow their DVDs of the show). You can see in the first official image that has been released, there are new costumes and haircuts as well as a slightly redesigned set.
My excitement rating is currently at 11 out of 10!
To keep up to date with the latest news, drop by the official Red Dwarf page.