The sushiplane campaign launch event

The sushiplane campaign launch event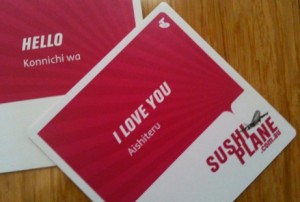 As seen in desktop magazine here
These days you can find somewhere to get sushi in most shopping centres. The exposure to Japanese food and culture has never been greater than it is now. With the sheer volume of quality animation that has been done, you will no doubt have watched and enjoyed Japanese animation (possibly not even knowing it), and had at least a little bit of exposure to their movies (Akira Kurosawa's films are all timeless and worth watching, not forgetting Godzilla…) as designers we embrace their different viewpoint on packaging and design and their culture that embraces the illustrated work so whole heartedly.
So hearing about Telstra's 'Tokyo Challenge', I jumped at the chance to get a sneak peak whilst having some sushi and sake in Surry Hills at Tokonoma Shochu Bar and Lounge. You can find out more about the Tokyo Challenge via sushiplane.com.au
You will also no doubt spot the Telstra Sushi Plane ads on TV and see the full episodes via the website.
Upon arrival we were greeted with cocktails and various small morsels of sushi. The talent, creatives and Telstra were all in attendance and were quite willing to chat with the media in attendance to cover the event.
The atmosphere of the place was like any good bar, with lighting subtle enough so you could see but cover all manner of flaws. Good background music played until the main event of the night. Once the necessary speeches were covered, on came the first three of the commercials, and the first episode to be available on the website.
The sneak preview was surprising in that DDB were given so much trust by Telstra to bring the sushiplane campaign together. It really does hit the target market, with a campaign that is interesting, engaging and bound to be talked about. True it is about selling a product, but with the big personalities involved, you can just see this as a launching point for some of these people into the TV realm.
As an aside, the little video message to the people involved by Rome Kanda was worth attending the event alone. He is a famous Japanese TV host and truly out there. Hilarious and odd at the same time, but Japanese game show hosts are far from being shy.
An interesting night was had by all, and it looked like everyone enjoyed themselves (and well into the night I am guessing), I for one, am going to keep an eye out to see what else happens with the Tokyo Challenge.
Previously we have seen the lead up to this with some of the contestants selected via the Japanese Dodgewall here in Sydney, covered by Desktop back in June.