The best things in life are: Free! (especially the net!)

The best things in life are: Free! (especially the net!)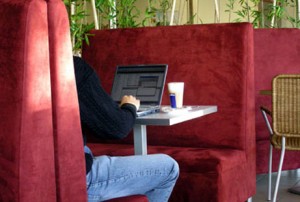 As seen in desktop magazine here
Most of us have at least one Wi-Fi device, whether it is a smartphone like the iPhone or an iPad or a netbook style computer. Invariably we will have it with us when we are out and about, so do you rely on your expensive data plan or do you hook into the free access points that are popping up everywhere?
Okay, let's be honest, these are not good connection speeds, however if you are looking to check your emails and do some quick web browsing, it is more than enough.
Sydney CBD for example has several food courts which offer free Internet access (you just have to agree to the terms and conditions before it takes you to the service brought to you sponsor message). A large proportion of the coffee shops, cafes and pubs offer access for their customers. McDonalds offers access through all the stores in the city, and now some of the service providers like Unwired are providing free access within the CBD.
A quick search through your available networks list will give you an idea of how many points are around you, and hardly any of the places I have used are advertised as having them. Stumbling across a new service is like finding a hidden prize!
Sitting in a comfy chair drinking a morning coffee whilst checking the news online at the local coffee shop is a great way to start your day.
Keep your eyes open for new access points as you never know where you will discover one.