Sneak Peek: The upcoming new site design for BittenByDesign.com!
Sneak Peek: The upcoming new site design for BittenByDesign.com!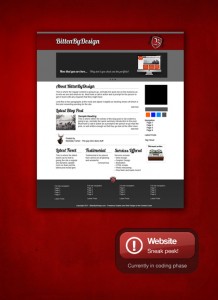 Over the last six months, I have been working on a new updated look and feel to the website. It is slowly coming together, and as the saying goes 'the cobblers children are the last to get shoes' it is very much the case for designers who do additional work after hours and have children.
As you can see in the sneak peek poster, it is a big departure from the gloomy greys of the current site and although I had hoped to run a May Reboot about it, I was swamped with work and the May Reboot passed me by. It didn't help matters that I am determined to run the site with some custom plugins, and not having the time to build the plugins has meant that it has gone on the backburner whilst other paid projects have taken the limelight.
My intention is to include an improved look to ease reading, to incorporate social media better, and to have some dynamic elements scattered through the site so as to keep the viewers attention for that much longer.
Of course once the site is chopped and coded, I will have no excuse to not work on the ebook I have been slowly working on for more than a year and a half. I may get another designer in to lay it out and save myself for the final revisions and actually have a weekend without working for once!
Any feedback or initial comments would be appreciated, as this has been my little project for far too long and needs a fresh set of eyes to look over it to see where it could be improved.
If it turns out to be popular, I may even be willing to give away a slightly more basic version to people via this website or through smashingmagazine.com. Check back in future to see if it gets enough response to elevate it to a public release!