Now reading: Sofa Moolah
Now reading: Sofa Moolah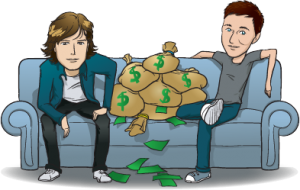 I am currently reading a recently launched blog – Sofa Moolah (got to love the name) it caught my attention as I was following one of the guys who has put it together on twitter.
Now it is a blog about making money online, and it is brand new. It is not the wealth of information that you get from a blog like shoemoney as it has only just had the go button pushed, so literally only has one or two posts made to it so far.
For subscribing you can download a free 20 page ebook by Mat Carpenter. It really just covers off some of the insights he had learned from his addtodesign blog when he started it up (he now no longer owns it). There is a few gems in there that anyone into blogging or just starting out can learn from.
It did strike a chord with me, mostly because it is very much akin to what I do with my own online guest posting and article writing. I certainly don't use the potential of social networks and social bookmarking anywhere near the potential they have, but in regards to guest posts, I am on the same page. I don't see a guest post as a chance to spruike my site. Rather, I use it as a way of building my reputation and authority as a designer. Mostly just having the link to my site or my twitter account under my name in the article credit is enough to drive some pretty healthy traffic to my website.
And the idea of pre-generating posts to appear at a later date is one that I have to agree with. I started doing that for myself a few years back after looking at comic-press and seeing you could set an appearance date for a post so you were covered whilst you are on holiday or having a few up your sleeve so you are covered in times of sickness so you can push the go button and not have to try and work whilst sick.
I am looking forward to seeing the posts they are planning on putting up on sofa moolah, as I like picking up new tips or ideas to apply to my own website. And if any of them help build up a bit of extra income for me, well, I would not mind one iota.
Hopefully I will catch up with you in the article comments section over there!