Jarek and Michal (Saratan) interviewed for Wolfhound Metal Radio & Magazine

Jarek and Michal (Saratan) interviewed for Wolfhound Metal Radio & Magazine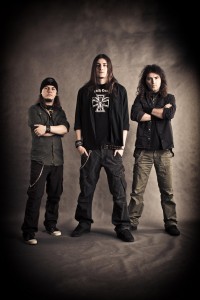 Original interview by Nicholas Turner available here
Today I am speaking with Saratan. A Death Thrash Metal Trio from Krakow, Poland. Okay, first question, and I am sure plenty of others have asked it before. Where did the name of the band come from? Was it just a cool name in that it is Arabic for cancer, or was there a reason that particular name was picked?
Jarek: I was studying Persian language, and our former guitarist Staszek, Arabic language. Staszek is no longer with us, because he passed away many years ago. We were sure that this band name sounds cool, it's not taken, and it's similar to the word "Satan". Moreover we were interested in Middle-East culture so it was clear to us that we want to include come ethnic influences in our music!
After listening to your current album, I feel that you have a sound a little like early Sepultura. What, were and are, your musical influences?
Michał: Every member of Saratan has a very different taste in music. It is very difficult to say, we love Death Thrash Metal and all the bands that play this music. Everyone should speak for himself about music influences. Mine past big influences were bands like Origin, Nile, Behemoth or Keep of Kalessin, now I prefer simple music like 80′s pop-rock stuff. Simply, every kind of music is an influence to me, and that's the best in making music, you don't limit your style to one specific genre.
Jarek: Many years ago, when I was forming the band I was influenced by thrash and death metal. Through all these years I had discovered many great music genres and bands. It is a natural progress. Right now my favorite groups are: Celtic Frost, Emmure, Anaal Nathrakh, Motley Crue, but it's always nice to return to all this great tharsh band like Annihilator, that I was listening all the time, when I was teenager.
Due to the rather homogenous sound of Metal across the globe, do you have to bring something extra to your music? I like the acoustic guitars that you have used on the Taj-e Sahra track, I feel it helps make you stand out a lot more than the bands who just seem to rely on offensive language or just playing faster and louder to be different from everyone else.
Michal: It's obvious if you want to be recognizable you have to do something extra in your music. Some bands put emphasis on lyrics, some on speed, some on image – we decided to give our music more ethnic/natural/organic style. Of course there are plenty bands which do it, like Nile or Orphaned Land, but we do it in our way and in our style.
Jarek: When we were choosing the band name, we were sure that we want to mix Metal with ethinc sounds. On our first record, demo cd, Infected with Life, we had made ethnic instrumental song, later too. But now we could make one step closer to the music genre we wanted to be part of. There were many reasons, and we couldn't record ethnic or classic instruments in that amount. Now we have more opportunities, we are better musicians and composers, and we want to make something new and fresh!
Do you feel your local Metal scene is strong, or is there a lack of good venues that support Metal? Europe as a whole seems to have a much served live scene than the USA or far flung places like Australia.
Michal: We have recently played some shows around southern Poland and I have to say that there were clubs which gave us a real satisfaction from playing. People enjoyed our show and club staff was really kind to us. I don't know how shows look like abroad, so I don't have comparison.
Jarek: Europe is supporting Metal, and in my opinion it's the strongest Metal market, especially Germany. The situation of Metal in Poland is not so bad at all, and I have a feeling that our local Polish – scene is one of the strongest in the World. Look at all the Death Metal bands, Polish Death Metal became a mark of quality.
Do you have a tour planned to support your latest album Martya Xwar that you released November last year?
Michal: Almost answered this in previous question hehe. Yep, already had one – it was Frozen Plague Tour (split in two parts) with Thy Disease. It ended on 9th March, we played together some really good shows. I think people know Saratan (and our latest album) much better now. It was even surprising when we heard from people that they came to show only to see us live.
Jarek: We are working on that. We will play many gigs in Poland, and we are planning to tour abroad. We are counting on our booking agency Dragon Productions!
Is there a plan for further videos to the one you did to promote the album launch last year?
Michal: Yeeees, in the end of march we will shoot another video. Follow us on Facebook.
Jarek: It will be ready in April 2013. It will be so different than Ba'al Zevuv!! Check our pages to be sure to not miss it! The only thing I can say for now, it will be video for the fastest song form our new album!!
Since Saratan has been around for close to a decade, do you have a memorable show you have played? Even just one that sticks in your mind as being a bit special over and above others.
Michal: As a quite fresh member I think, the most memorable was Covan Wake the Fuck Up, on 21st January 2013 – with Decapitated, Virgin Snatch, Thy Disease, Sceptic, Totem and Serpentia. We had opportunity to meet all this great guys in one place and what's the most important – in good cause to support Covan.
Jarek: We had played many good shows, for example our first gig in Germany, or the gigs in big venues in our hometown – Cracow.

Thank you for taking the time to speak to Wolfhound Metal Radio & Magazine.
Michal: Thanks for an interview, it was pleasure for us to share some words with You.
Jarek: Thanks a lot! Check out our new cd Martya Xwar and wait for our new video!!